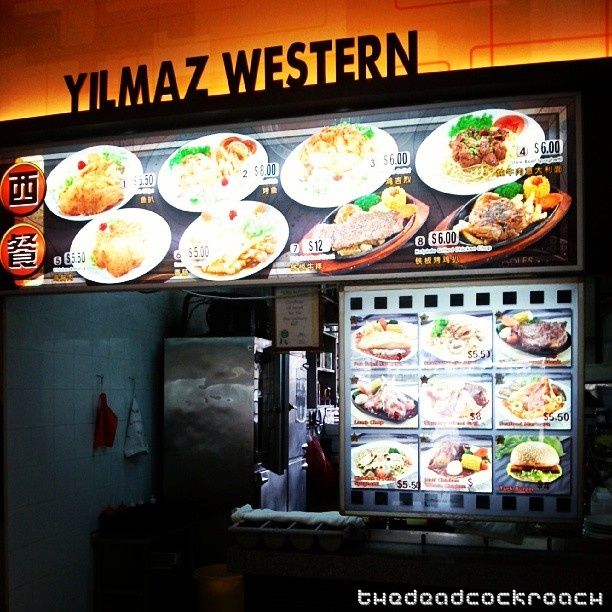 The initial plan was to visit
Rasa Sayang Western Food
at the S11 coffee shop located at Ang Mo Kio Ave 8 (next to MS Color) but due to some unforseen circumstances, I ended up visiting
Yilmaz Western
instead.
Fortunately, I had done my homework the night before and have a backup plan if not, I would have made a wasted trip!
Over at
Yilmaz Western
, the specialty I have heard about was their
Grilled Chicken Chop
which was served on a sizzling hotplate.
Unfortunately, I was informed that the
Grilled Chicken Chop
is not ready yet and the boss suggested me to order something else. I was a tad disappointed but as I did not want to return empty handed, I ordered a
Fish & Chips
instead.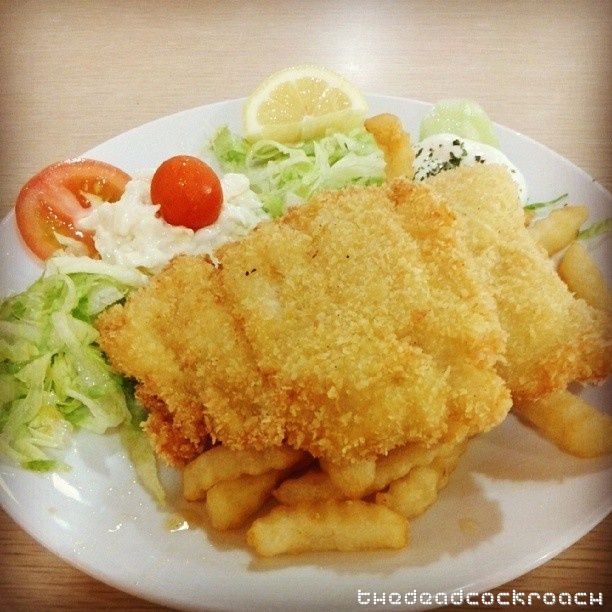 Fish & Chips $5.50
When I was making my order, I saw the boss garnishing at least six plates therefore, I was already mentally prepared to wait for up to 20 minutes.
However, the food came faster than I expected. A check on my watch revealed that I received my order in just a little less than ten minutes!
That was quite a feat considering the boss did everything himself from taking orders, plating, cooking, delivering the food and collecting payment. He is basically running a one-man show and doing a good job at it!
And that is not the only thing which impressed me! I was astounded by the portion and appearance of the dish too.
The western stalls elsewhere would probably give you battered fish where the batter is thicker than the fish itself but here, you are given not one but two slices of breaded fish that is easily the size of half of my face each!
The fish is soft and flaky with no obvious 'frozen' smell in it while the breaded exterior was fried till crispy and remained so till the very last bite.
The thick-cut fries hidden underneath the fish were pretty normal but good thing that the boss did not go too heavy on the salt.
The sides
Freshness of the fish apart,
Yilmaz Western
is also very generous with the sides and greens. Other than the slices of tomato and cucumber, there were also two piles of lettuce and coleslaw with a cherry tomato on top.
The coleslaw is thick with mayo and tangy with vinegar. Very appetizing!
(I realized there is no carrot in their coleslaw)
On the whole, I enjoyed my
Fish & Chips
.
I like how they are being generous with the portions yet keeping prices low for the masses and without compromising on the quality.
For $5.50, the portion is quite satisfying for a big eater like me. Two weight-conscious OLs (office ladies) could even order one plate to share. The abundance of greens certainly helped to offset any
jelat-ness
from the fried fish.
I will certainly be back again to lay my hands on that sizzling
Grilled Chicken Chop
!
The Verdict?

3.5/5
YILMAZ WESTERN
Blk 728 Ang Mo Kio Ave 6
Coffee City Coffee Shop
Opening Hours: 12.30pm to 10.30pm daily